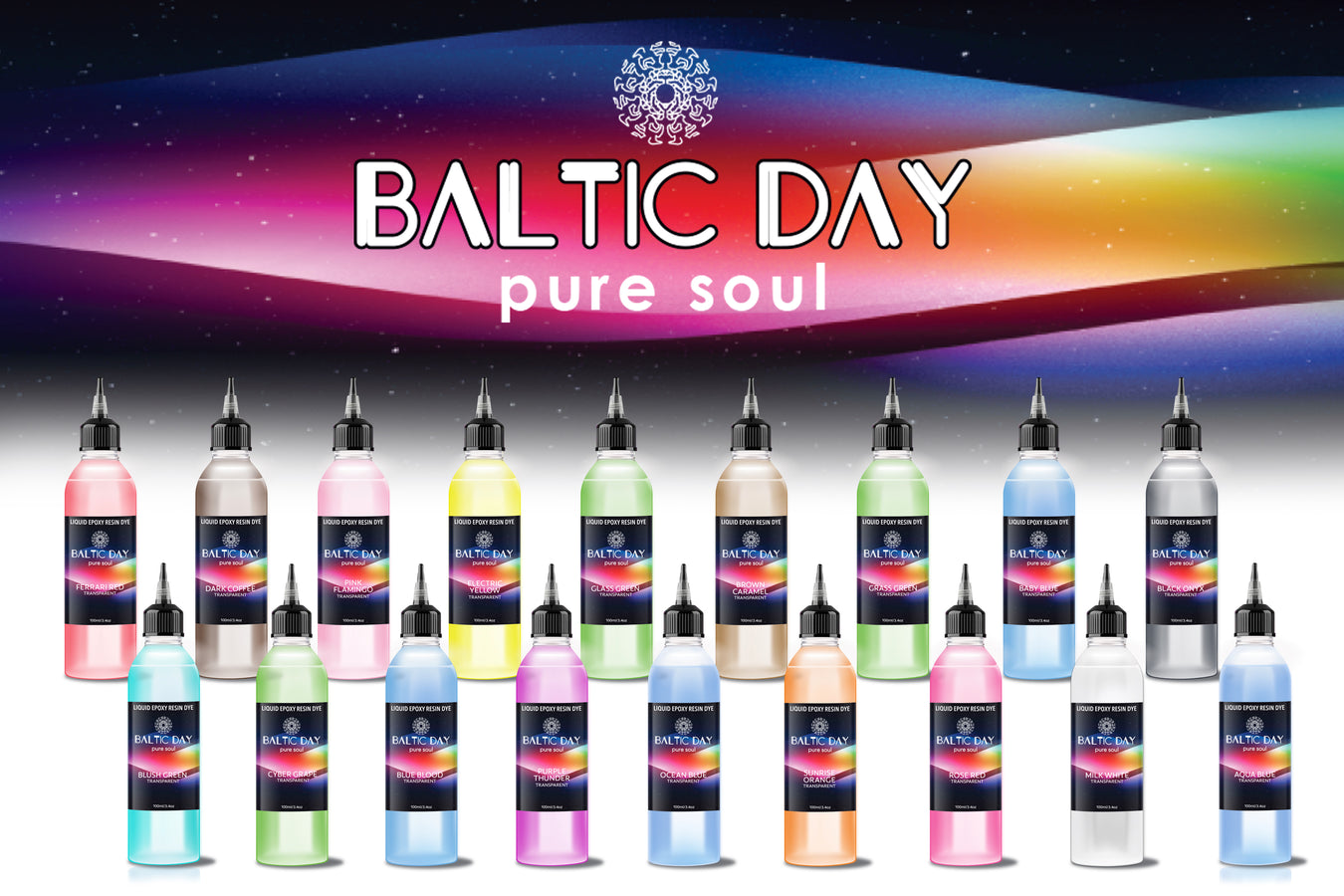 Liquid Epoxy Resin Dye
Explore the Best Liquid Epoxy Resin Dyes & Pigments Online
Baltic Day vibrant epoxy resin dyes are specially designed to work with all types of resin and hardeners. Use these epoxy colors to create a transparent effect into your DIY artworks, resin jewelry making, craft decorations, paint, painting, artistic flairs, shine bright neon, amazing epoxy countertops and other DIY crafts. Liquid epoxy dyes are perfect for "Exotic" resin pours and hundreds styles of marble, translucent, transparent, opaque or granite effect! Baltic Day liquid epoxy pigments are colorfast and UV stable. 
We offer 18 different color options of epoxy resin dyes to choose from: Ocean Blue, Turquoise Blue, Milky White, Bright Green, Rose Red, Ferrari Red, Black Onyx, Brown Caramel and much more! While some resin colorants don't work very well with epoxy, our liquid dye is formulated to mix perfectly with resins.
Highly concentrated epoxy resin colors will make your creations stand out from others while staying crystal clear. All our dyes are non-toxic, cruelty-free, and have no harsh chemicals. Blend them to achieve your desired colors. Each epoxy dye bottle is 3.38 fluid ounces (100ml) and very concentrated. A single bottle of epoxy dye can easily color an entire 1-gallon kit of Baltic Day epoxy resin. It's 
1 ounce of dye per ½-gallon of resin and ½-gallon of hardener.
Just a few drops will be enough for most of your projects especially for jewelry making, tumblers, sample boards or small DIY crafts. If you want darker colors, use one bottle of dye per gallon of epoxy.
Baltic Day welcomes you to browse online at all our epoxy resin colorants and supplies, so you can get everything you need in one basket. We offer fast delivery Worldwide!