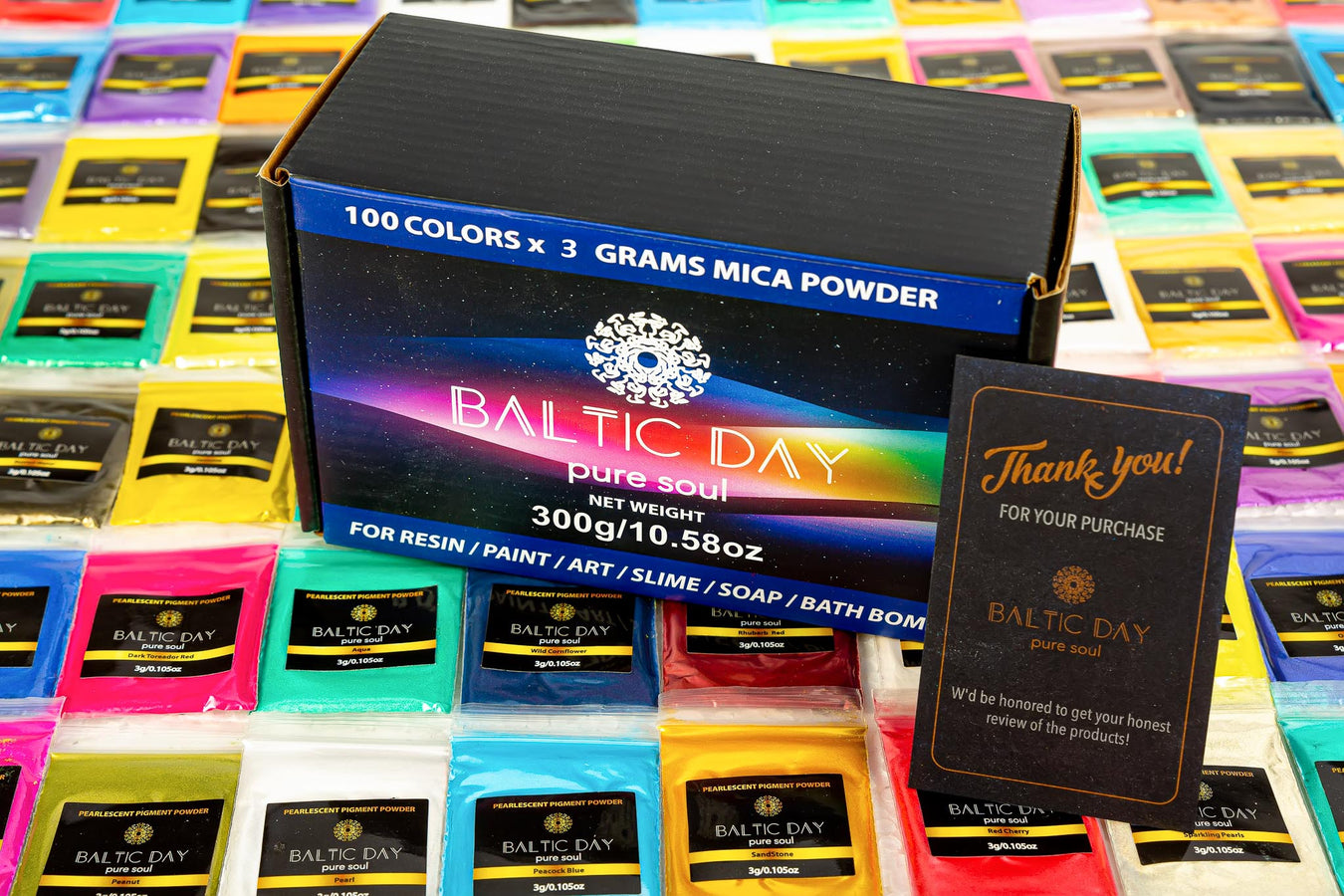 Mica Powder Set
Baltic Day offers over 300+ different mica powder colors that will really make your projects pop! Mica pigment powder is perfectly suitable as an epoxy dye helping you create your own projects with beautiful colors and matte or shimmering effect.
These mica pigment powders 
are versatile enough for almost any medium, including epoxy resin, woodworking, paint, soap making, candles or beauty products. Mica powders for epoxy resin are highly pigmented and have a strong and intense color effect. A little goes a long way! 
Colored Mica Powders are very vibrant and versatile colorants for creating beautiful epoxy resin projects. These coloring pigments are non-toxic, 100% safe and pearlescent. 
Highest quality mica powder pigments are specially designed for resin art projects. Our natural micas can be used in all types of resins, acrylic paints, art, jesmonite, crafts, card-making or even soap making. Use micas to decorate the surface of tumblers, jewelry or polymer clay.
The Baltic Day collection of mica colors are the finest mica made. Pearl pigment powders sparkle when added to resin. The sparkly particles will remain suspended within the epoxy resin because of their light weight.
We offer a wide range of different mica powder sets including chameleon mica powders, pearlescent pigments, metallic mica powders, shimmering and matte pigments.
These mica powder pigments will give you the most intense pearlescence and metallic effect in your projects. All 100 Mica Colors are available in larger quantities.
Explore the Best Mica Powders Online! Baltic Day welcomes you to browse online at all our mica powders so you can get everything you need in one basket. We offer fast delivery Worldwide!