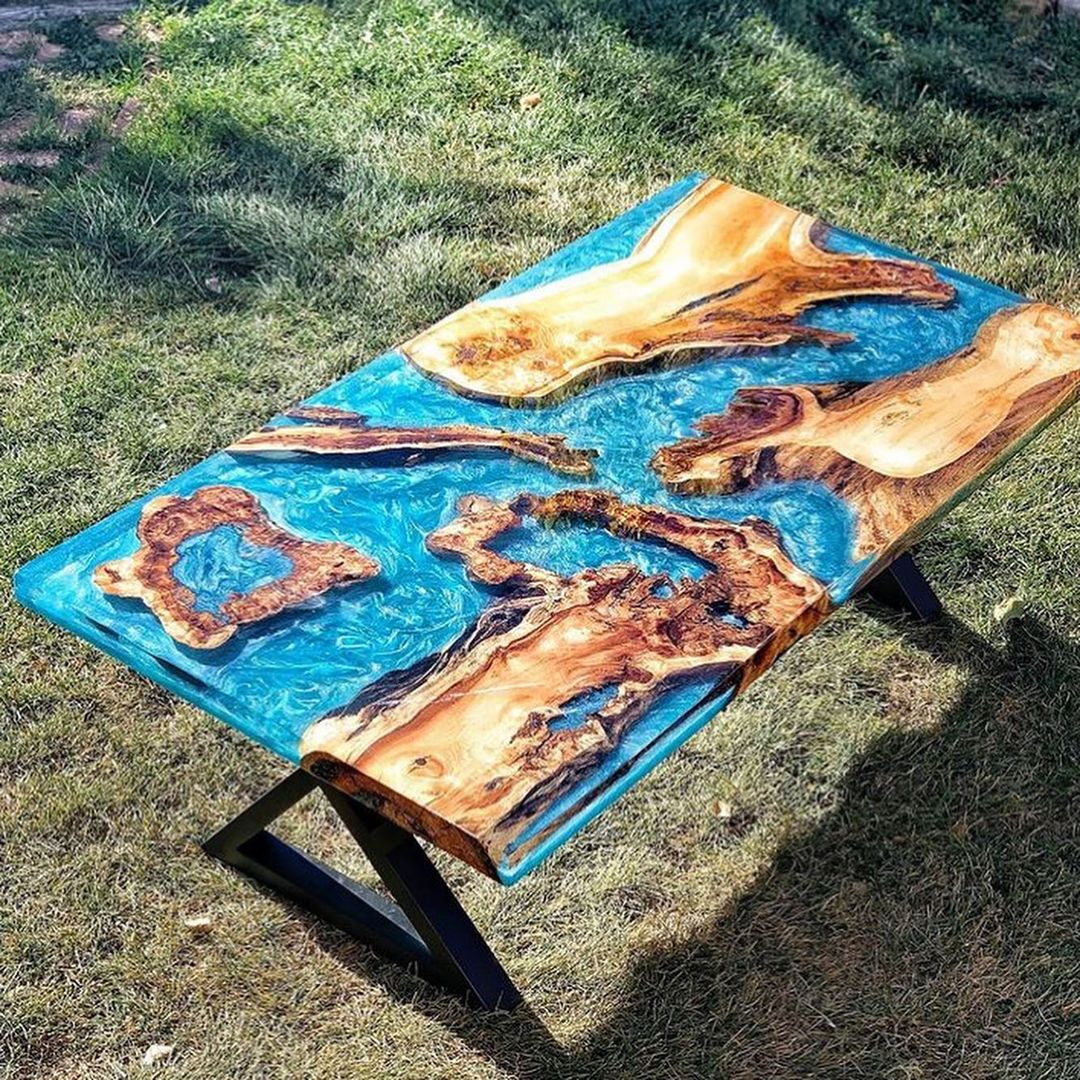 Best and Top Rated Epoxy Resin for All Your Resin Art Projects
There are hundreds of different epoxy resins for any applications, finding the right resin for your project can be quite difficult. In this Best Epoxy Resin Guide, we will share our 15 years experience and review of which resin adhesive products are highest quality and most suitable for your art projects and applications.
The Most Important Things to Pay Attention When Buying Resin
The Epoxy Resin art is getting more and more know. In these days resin became a very popular hobby and business. That's why there are many different brands who sells more cheaper products than well known brands. We always recommend to use a well known brand and highest quality products. They may be quite expensive but it's worth the cost!
Different Types of Epoxy Resin
There are different types of resins such as Casting, coating or Laminating Resin. These products are made from the same materials but has a different uses. Casting epoxy resin are used for molds, filling wood, figurines, jewelry or coasters. Laminating resins contains no wax and the pouring surface will remain tacky ( layers will bond better during laminating ).
Casting Resin
Mixing ratio 1:1
Has lower viscosity ( thin consistency )
Curing time is slow
Thicker layers compared to epoxy resin
Laminating Resin
Simple mixing ratio
Has high viscosity ( thicker )
Curing time is fast
Thin casting layers
The Best Epoxy Resin for Resin Craft and Art Projects
There are hundreds of different resin art techniques that can be used to create a beautiful and unique artworks from resin. The imagination is endless: from the resin jewelry making, paintings cast on a wooden surface, casting of coasters to resin trays, geodes or even kitchen accessories such as knifes, boards.. The process of working with epoxy resin requires a very thin layer where liquid dye or pigments are mixed in, the resin mixture CAN NOT BE TOO LIQUID.
Colors may mix together quickly and you will achieve an unsightly color shades and tones. Usually resin cast the maximum layer thickness of 2cm. For the larger pours, the chemical reaction may occur the heat which will cause to harden resin immediately and leave sticky spots.
There are specifically designed products for use in resin art, which are formulated for artists. The most important thing here is ensuring that there is no toxic ingredients, 100% safe, no dangerous fumes, as possible no solvents are used, very little odor is produced during processing.
Professional grade resins use the highest quality UV filter to prevent yellowing or fading. Keep in mind, that resin always loses a very small percentage of it's transparency and can start yellowing. Resin colors are mixed together to hide yellowing spots. It is very hard to notice, when you mixing resin paint.
Important Factors:
The resin should be used with a medium to high viscosity ( laminating resin )
The processing time should be approximately 30 minutes
To prevent or reduce yellowing UV protection must be included
The resin should be designed for resin artworks with a great color stability
BALTIC DAY Crystal Clear Epoxy Resin for Resin Art – Coasters, Tumblers, Jewelry, Paintings
Baltic Day epoxy resin was specially formulated for resin art projects. It is made with the highest quality and safe materials so you can work with confidence! It is very easy to work with Baltic Day resin. Just simply mix both components – Resin and Hardener in 1:1 ratio. It means that exact measurements and temperature adherence are important factors.
Tips:
Be sure you are working in an temperature room area ( at least 70-75 degrees ).
Measure resin and hardener very accurately ( We suggest to use

measurements 

cups )
Mix thoroughly for at least 3-5 minutes ( after 3-5 minutes, pour the mixture into a clean bucker or container and mix again for few minutes )
The Best Epoxy Resin for Resin River Tables
Resin tables are getting more and more popular in the United States and all over the world. Epoxy tables are made from synthetic resin and wood. It requires preparation and experience to create a beautiful table in unique variations.
You can make a various size tables for your dining, office or kitchen rooms. As an example for big office resin river tables, you will need probably more than 10-12kg of resin and little bit more to cast a tabletop of 4-6cm thickness.
Casting resin must be professional quality, specially formulated for thick layer application in one pour. The thickness of this layer is the most important thing. If you will use a poor quality, cheap and unknown brands resin, the chemical reaction will occur and generate a very high heat.
This exothermic reaction will damage the wood and resin. You should be patient because resin hardens slowly, it takes a lot of time to cure completely. The several thin layer should be poured on top which hardens for several hours. For resin river tables, we recommend 2:1 or 3:1 ratio epoxy resin.
Important factors:
4-6cm layer height
Must be processable for larger quantities without overheating
Include UV protection
In order to avoid tiny bubbles, use a longer resin pot life
The Best Epoxy Resin for Wood 
Epoxy Resins are used to create a beautiful high-gloss wooden tabletops, bar counter tops, charcuterie, cutting boards or wooden art pieces such as river tables, resin and wood sculptures. To see examples of these beautiful river table works on Instagram that people have made, you are wondering how they did it? Could you create this with standard wood finishes like varnishes and stains? I don't think so.. It's not easy to find the best quality and most suitable epoxy resin for your wood projects. High quality resin can be a little bit expensive, so you have to do a research before purchasing. You can order the best epoxy resin for wood here.
Which Epoxy Resin is best for Jewelry Making?
There are hundreds of different resin jewelry molds. With Resin and silicone moulds you can create a beautiful pendants, rings, necklaces, earrings or bracelets. Whether you combine wood with resin, if it is clear or colored jewellery or other things. You can also put and cast in objects such as dried roses, flowers, paper, metal, plastic, fabric, clay, colorant such as powders or glitters, natural elements and much more!
For larger objects, the maximum layer thickness is not so important here. The most important thing is to have a very good processability, UV protection and good color separation when casting. One more important factory is Crystal Clear Curing. Polyester resin dries very quickly and it's ideal for resin jewelry making.
Important Factors when Casting Resin Jewelry
The resin must be a very good quality ( should cure as hard as rock so that the jewelry made of resin does not scratch )
The air bubbles should escape during pouring. If they won't, destroy them with heat gun or torch.
UV protection must be included otherwise resin will start yellowing over time
Recommendation: BALTIC DAY resin for Jewelry Making
Baltic Day art resin is very well suited for the casting, coating and production of epoxy jewelry. It cures very fast that finished casting can be removed from mold after 7-8 HOURS. Simple 1:1 mixing ratio and has a short 40 minutes working time. Our resin has a very good color separation, self leveling, self degassing, 100% resistant to yellowing from UV exposure and odor free.
This resin starter kit for jewelry making comes with all accessories you will need: resin and hardener, 2 measuring cups, plastic spreader, 20x wooden sticks, pair of nitrile gloves. A perfect resin kit for beginners and professionals.
Epoxy Resin for Floor Coating
While resin art is getting more and more popular in the world, resin flooring is becoming more known. Living space, bathroom, garage floors or kitchen are most common rooms where resin floors are suitable. As an example, in the living room, resin can be used for all types of floors: floor with the cellar, glossy finish with a protective layer of laid wooden floor.
Important thing is the product composition: the balance should be between elasticity and strength. Once you apply epoxy resin to the floor, protective layer will be very hard and resistant. These products for floor coating is also very important and easy to handle. Air bubbles should be able to escape by themselves from the resin. There are a lot of different epoxy resins sold as floor coatings already mixed with tinted colors so the color accuracy is already given.
Important Factors to Consider Before Purchasing Epoxy Resin for Floors:
The consistency of epoxy resin should let air bubbles to escape by themselves
Resin should be Self-levelling
To process larger floor areas, the processing time should be long enough
To prevent yellowing over time, the product should have UV protection
Epoxy resin should have a good abrasion between strength and resistance 
The Best UV Resin for Jewelry Making
UV resin is a different resin that is already mixed and ready to use. The processing time of this special UV resin has a very long working time and starts curing only under UV light. UV resin specifically exposed to UV light, it reacts very fast and cures within a very short period of time, within seconds. It's perfect for small casting objects, repair purposes, molds and jewelry making in the home such as earrings, rings or pendants.
UV Resin is very convenient and efficient, you don't need to measure both parts and mix thoroughly. The curing time of normal resin is very long, UV resin cure hards in couple minutes with 36W sunlight or UV light. Cures smoothly with a crystal clear and glossy finish. It is also anti-scratch and yellow resistance especially for jewellery making, craft decorations, cast figurines, resin paintings, casting and coating. It is also mixes very well with BALTIC DAY mica powder pigments.
 Consider there factors when purchasing UV resin:
Choose the UV resin for your choosed project. Thin or thick UV resin depends on the project size.
If you noticed tiny bubbles and they do not escape by themselves, remove them with a torch or heat gun.
Use a special UV lamps for optimal curing
The odour emission can be higher than normal epoxy resin
The Best Epoxy Resin for Casting and Molding
Whether you create resin pictures, paintings or the coating surfaces, molding with epoxy resin is completely different. When casting molds, the layer are often higher than usually, the resin mixture can not harden to fast or the heat will occur. The tiny air bubbles will only escape if the resin does not cure too fast. Resin should not be cast thicker than a 2-3 cm! For more thicker layer, you should purchase different epoxy resin specifically designed for your applications.
Important factors when buying epoxy resin for molding and casting:
Low viscosity consistency ( thinner )
Long open time will reduce from bubble development
Layer thickness should be at least 5 cm
UV-filter should be included in the casting resin
What you Should Know about Epoxy Resin
Epoxy Resin is a chemical product which has chemical resistance, strength during bonding and unsurpassed durability. It comes as a two part system: Part A – Resin and Part B – Hardener. When mixing these two components together, the chemical reaction prompts between resin and hardener, transforming them from a liquid into a solid.
The mixing process must be followed exactly as per manufacturer's instructions. Each resin kit can vary in it's mixing ratio, so you always need to follow instructions before working with epoxy resin.
Once you mixed components together, you have approximately one hour of pot life. In this period of time, you need to work as fast as you can otherwise at the end of the pot life, mixture will become very hot and harden very fast. Our recommendation is to prepare all the tools and aids at hand before starting your project. Keep in mind that the actual curing time can take several days.
Coloring Epoxy Resin with BALTIC DAY pigments
There is a wide range of different resin colors: liquid dye, pigment powders, pastes and alcohol inks. You should keep in mind that it does not contain water, otherwise you can notice unwanted side effects. If water is contained in the color composition, the mixing ratio change and the mixture may not harden completely. The best option is to use resin pigment powders!
Baltic Day resin pigments are specially formulated for coloring epoxy resin. They are made from the highest quality materials to achieve the most intense and deep metallic shimmer of various shades effect. Top rated and most vibrant colors can be used to color all brands and types of epoxy resin.
Here are a few resin works made with Baltic Day pigments: river tables, boards, tumblers, coasters, jewellry, trays and other wooden furniture.