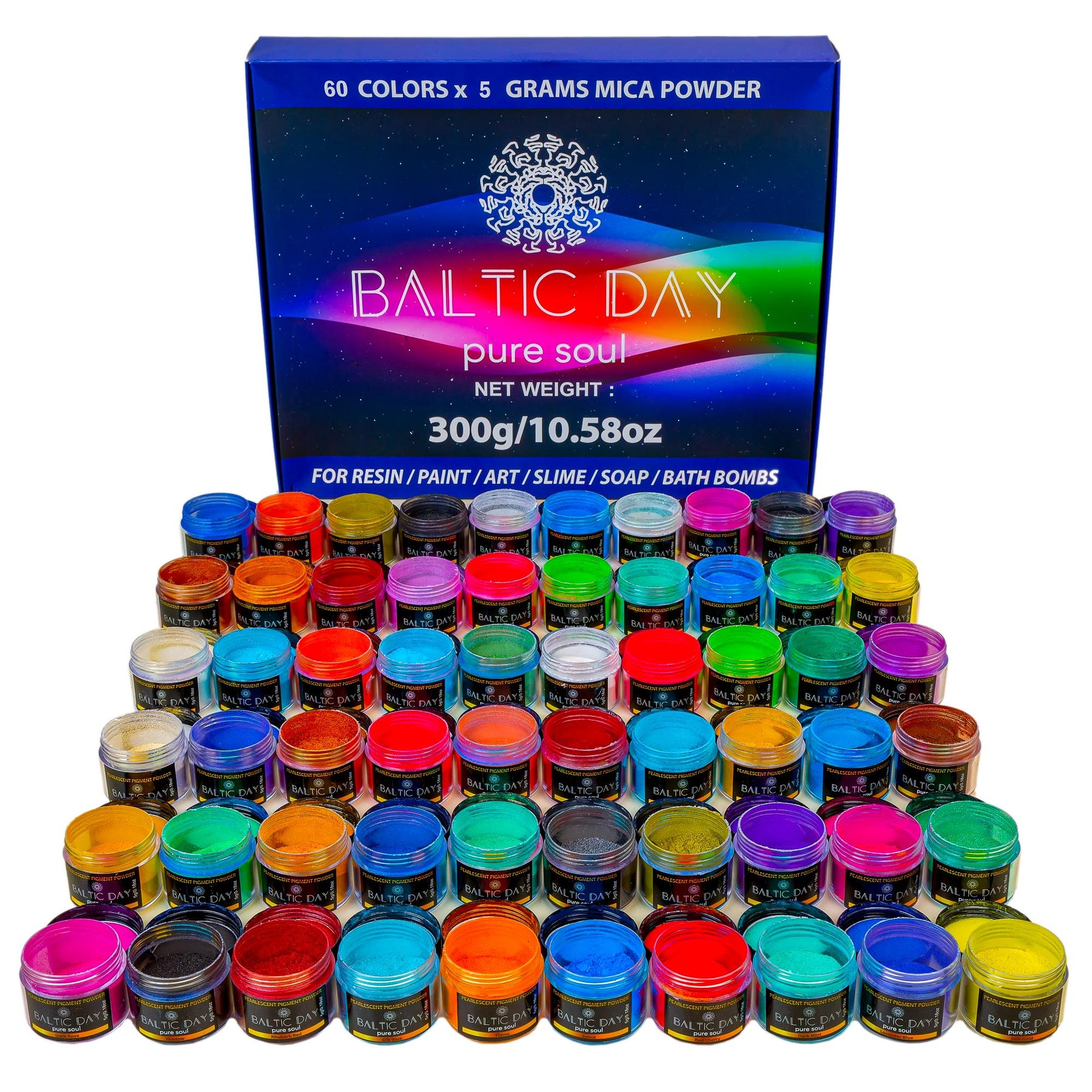 Metallic Epoxy Pigments – Metallic Powder for Epoxy Resin
Metallic Pigment Powders for Epoxy Resin
Metallic pigment is a special effect pigments made from the highest quality mica nanoparticles coated with organic and inorganic colors. These ingredients allows you to create iridescent and pearlescent effects in all your epoxy pour and thin coating projects. Metallic pigment powders will give a deep metallic shades and shimmer effect to epoxy resin. Vibrant colors used to be blended into mixed epoxy to enhance the color, add shimmery and glitter to all epoxy projects.
Baltic Day metallic powder for epoxy are made from the highest quality ingredients and are perfectly suitable for epoxy resin projects. It's very easy to use, mixed with clear epoxy resin or any type clear resin. We've designed our metallics to be mixed into our clear castin and coating resins to create a marbled and unlimited of deep shade effects.
How much Epoxy Resin Metallic Pigment is Best for Epoxy?
The concentration of Baltic Day metallic mica powder pigment you will need will depend on your project size. The thickness of your casting and coating will determine the exact amount of pigment you will need. 
When adding the metallic powder to the epoxy, it should comprise from 2% - 6% by weight. Thinner coatings will need a higher amount of powder than thicker castings. We recommend to use 1g of pigment per 1-5oz of epoxy depending on how saturated color you want to get. Do not exceed 6% metallic epoxy colorant to the total volume of resin as this will effect the delicate chemical balance for the reaction to properly used.
Create your Own Metallic Pigment with Pairing Different Colors
Looking for a beautiful color? Colors pairing are not a single color but a mix of couple of different colors. Create your own with Baltic Day metallic pigments. Mix multiple metallic powdered colors into an epoxy, urethane or polyester coating and then apply to your project. Our metallic dyes can also be combined with other brands tinting pigments to add some sparkle to epoxy.
What will you create with Baltic Day Metallic Color Pigments?