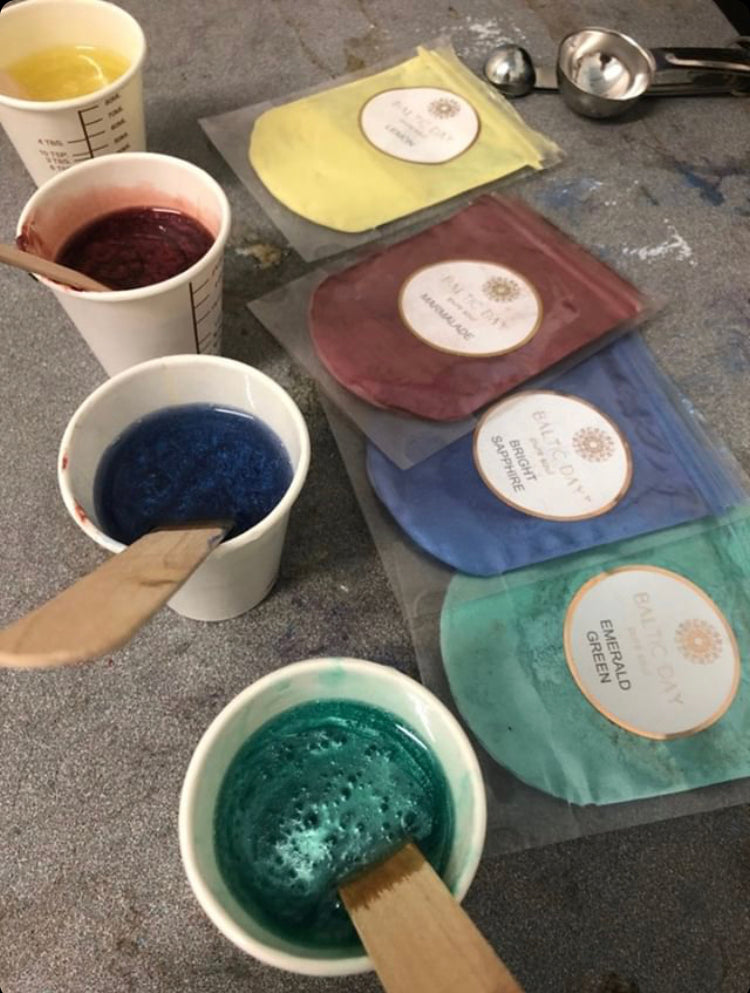 How To Color Clear Epoxy Resin - Best Resin Colorants for Coloring
There are a huge variety of materials to color epoxy resin, however each colorant has advantages and disadvantages.
There are few things you can do when it comes to coloring resin. Knowing these guideliness will help ensure epoxy coloring success.
Baltic Day products are specially formulated for Resin art and used to coat paintings, jewellery, flow art, petri dish, tumblers, silicone molds, wood, etc.
Epoxy Resin without any added colorants tends to end up with a slightly yellow hue. However there are options how to help prevent your epoxy resin from yellowing. Knowing these guideliness will help you to achieve desired results.
Before we get started, don't forget to follow us on Facebook , Instagram , Youtube to stay updated with tutorials, videos and Tips!
Which Coloring Dyes and Pigments are Suitable for Resin?
There are a lot of different coloring additives on the market. Howevery, not all of them are suitable for colouring epoxy resin: if water is contained in the inks composition, the mixing ratio changes and the mixture may not harden fully.
What colored media can I use to tint two part epoxy? 
Epoxy Resin Color Pigments
Epoxy coloring pigments are a safe way to color resin. If you will use high quality BALTIC DAY pigments, you only need a very small amount to color your resin. Coloring dyes in powder form do not dissolve completely, resulting in an beautiful, optical effect.
Liquid Color Concentrate Dye
Liquid coloring paints concentrate can be mixed easily with epoxy and dissolves completely. They can also be mixed together to develop new custom colors.
Adding liquid or powdered resin colorants to epoxy, you can create a perfect looking resin that can be used to add color to tabletops, charcuterie boards, river tables, chairs or any other furniture items. 
There is a huge variety of materials to add color to Epoxy Resin, however the best option is to use Mica Powder Pigments for Epoxy.
Non-traditional home resin coloring guidelines 
1. Colorant must be as dry as possible. Eye shadows or spices were not clumped and still a loose powder.
2.  Experiment with the color ammount, use as little of the colorant as possible - resin hates moisture.
3. Epoxies such as polyurethanes are incredibly moisture sensitive. We recommend to understand the resing you are working with, some epoxies can be fogiving about colorants.
How to Color Epoxy Resin with Food Coloring? 
Kitchen Spices – Pepper Paprika is the most common choise for a powder dye. You can also experiment with almost any type of powdered spice as a dye.
Sidewalk Chalk – this type of colorant can be a great substance, however you will need to pulverize it into powder.
Eyeshadow powders – you can turn your old makeup powdered products into dye. 
Step by Step Instructions: How to Color Resin
Prepare all the materials you need, so you can easily start working.
Covering the project work area with cardboard prevents damage.
 In order to avoid any health damages, we recommend the use of protective clothing consisting: safety goggles, a suitable breathing mask or respirator, nitrile gloves. Work in well ventiliated area.
Before starting coloring, resin and hardener must be mixed in the correct ratio 1:1. Two two components must first be very well mixed before starting coloring agents.
Woodworking Epoxy: How to properly use dye or sawdust to color epoxy?
Add the prepared resin paint, measured according to the dosage, to the epoxy resin mixture in the mixing vessel. 
 When coloring, you should remember the rule that a color percentage more than 5 percent of the total amount of the resin could cause problems with the hardening. The mixing ratio mixture should not be affected by the addition color agents.
BALTIC DAY resin pigments are made from highest quality Mica to achieve the most intense pearlescent and deep metallic shimmer of various shades. Super Vibrant and Versatile pigments can be used to color Epoxy Resin. We have over 300 different colors such as pearl, blue, green, white, orange, black, yellow, gold, teal, aqua, brown, bronze, copper, purple, pink, ghost, lavender, orange, flakes.
Buy Special Epoxy Resin Color Pigments HERE.
Applying Colored Epoxy
The Epoxy and Hardener should be mixed in the 1:1 ratio, or as the instructions on the package. Once the two main ingredients - Resin and Hardener are mixed, it is time to add the Baltic Day pigment.
How Much Pigment Color Should I Add To Epoxy Resin?
When adding the pigments to the mixture, it should comprise anywhere from 2% - 6% by weight ( Recommendations: 1g of pigment per 1-5oz of epoxy. 25-50g of pigment per gallon of peelable paint ) of the mixture. Depending on how saturated or translucent color you want to get, keep adjusting the amount of pigments added into the mixture until you achieve your goal. Create resin color combinations while adding different colored epoxy paint.
Tip: Do not exceed 6% colorant to the total volume of Baltic Day as this will affect the delicate chemical balance needed for the reaction to properly used.
BALTIC DAY epoxy resin color powder pigments are NON-TOXIC, 100% NATURAL & ECO FRIENDLY – VEGAN and CRUELTY FREE and can be mixed into any clear medium and applied to any surface. You can create with confidence as our mica pigment will not Tarnish, leave Lumps or Residues, Change or Fade in color over time.
For coloring wood with epoxy, the best method is to overfill the grooves, once dried, sand down the top of the wood until all the bubbles are gone. Sandpaper is recommended to start with, as epoxy is not that strong of a substance. 
Tips for coloring Epoxy Resin:
The most important factory for colouring epoxy resin is Mixing Ratio. If something will change in the composition between resin and hardener mixture, unforeseen problems can occur. There are few tips to consider:
Use only highly pigmented or concentrated paint dyes in order not to negatively change the mixing ratio.
Do not use water contained paints!
Test the ratio with a small amount of resin and dye to see if color and reaction meets your expectations.
The yellowing of epoxy resin without UV protection is less noticeable than transparent resin, but the lack of protection can cause the color to fade and change over time. Coloring resin does not replace UV protection.
At the beginning of your work, first process your resin uncolored to get know the specific properties. Then you will able to to estimate how the additional color changes.
Liquid Epoxy Paint:
Alcohol Inks - very popular resin colorant that gives a gorgeous, rich saturation and cool effects. Alcohol-based inks are an great candidate for coloring resin. The Alcohol leaves pigment without disrupting the curing of epoxies.There are two types of Inks:
Produced on the basis of water based as the solvent used such as acrylic inks. Water disrupts epoxy resin curing chemical process badly.
Alcohol Based Inks – Transparent and effect is concentrated. You can easily control the transparency of the color. Just few drops of these pigments are enough for most of your projects. Use few drops of these inks into a resin cup will result in a very light and gorgeous but transparent coloring. By adding more it will get increasingly saturated in vibrancy.
Mix multiple colors to customize the right color for your projects. To get Opaque – use a a touch of non-metallic white pigment powder and retain colour.
Dropping inks on the top and across poured resins will result in a awesome effect that is cellular, 3D or nebulous! Use a heat gun or a blow torch to enhance the resin creating webs and awesome Beach waves! 
Alcohol Ink Pigment also works great for silicone molds, petri dish and jewelry art! Vibrant inks are often used to make a gorgeous coaster. Alcohol-based colors are used for making resin jewelry such as charms, pendants, rings, necklases, earrings.
How to Resin Alcohol Ink - Add small drops and mix the resin slowly ( resin in the cup will look darker than laid down into a painting or mold ). For the Solid color (Opaqueness), add a tiny amount of base white or pearl mica powder pigments. Apply it to a panel or mold, remove bubbles with a torch and wait 60-70 hours to fully cure.
In both cases, these inks contains color pigments in very high concentrations, just few drops of these pigments are enough for most of your projects. But keep in mind that alcohol inks are not very lightfast. That's why there can be some problems for outdoor use, if UV lights hits colored resin for a long period of time.
Chameleon Color Pigments
Chameleon Pigment seem to change and move color when viewed from the different angle. Mix some of our highly saturated color shifting pigment powders and give a holographic finish to any project. Add these color mica powder shift pigments to epoxy resin for amazing and shiny results.
Baltic Day chameleon paint has a slight metallic and pearlized appearance and will mix into mediums such as paint, epoxy resin. Make your own jewelry, crafts, coatings, ceramics, automotive, plastics, resin painting projects, slime, nail polish or homemade soap that looks incredible! Our colorshift powder pigments come in different rainbow colors for the wide variety.
Compared to color shift and ultrashift powders, the intense chameleon pigments with mirror effect are super fine and you need a very tiny amount to get the strong color shifting effect. The regular chameleon pigment powder has a soft look, while super chameleon has a deeper and metallic color.
This type of pigment can be mixed into any paint, add it to epoxy resin, lacquers, automotive paints and artwork applications. Super chameleon pigments are often used for tumbler making, cosmic river tables, jewelry DIY.
Resin Dye -  Liquid coloring paints concentrate can be mixed easily with epoxy and dissolves completely. They can also be mixed together to develop new desired, custom colors. 
Liquid epoxy resin pigment dye is ideal for DIY jewelry making, resin mold, casting, decoration crafts, garment accessories, or other DIY making. The resin colorant is very concentrated, so a little drop can go a long way! 
Easily control the amount by squeezing the epoxy pigment out of the transparent bottle with nozzle.
Airbrush paint - This paint are also very suitable for epoxy resin coloring. Air brush paint, like the fluid acrylics, have a very thin viscosity. Tip: choose reasonably high quality products with a sufficient color concentration.
Luminous/Glowing Pigments - If you choose glow in the dark pigments – luminescent colorants. There are two different approaches for this effect: Made to glow by black light and other – charged under UV light and then glow in the dark for several hours. 
Daytime colors such as fluorescent pigment tint added to the natural glow powder for a splash of color. 
Mix photoluminescent pigment with clear or transparent mediums such as epoxy paint, resin, plastic, ink, glass, clay, rubber, silicone, cement, glue, spay praint, road paint or powder coating. The glow pigment will settle to the bottom leaving you with a brilliant clear top. The higher the ratio of powder you will add, the brighter the glow will look ( solid glow ).
Glitter Powder - This powder is getting more and more popular. You can create a beautiful resin effects with this glitter. This coloring agent does not dissolve in the epoxy resin and does not color it but glitter effect is very beautiful with impressive optics.
Create different effects with glittering powder: from metallic glitter to holographic glitter. These colorants will give your works an eye-catching effect!
Epoxy Resin Color Pigments and Powdery Additives - There are different versions of this type colorant: from normal, matte colors to metallic pigments that shimmer. These pigments have a high light resistance so they do not fade over time. 
Metallic Resin Dye paint will create gorgeous rippled metallic and shimmery effects in river tables, counter tops, floors, castings, coatings and more!
Adding tiny pigment percentages will create a shimmering effect where it is possible to see down through the resin, remains translucent but which is tinted by the color of the shimmer – shimmers in the light. While adding a higher percentage of pigment powder will produce a solid colour appearance with similar to metallic paint.
Try mixing different coloured powders together to create a breathtaking color combinations or try pouring resin tinted with different colors together to create amazing effects!
BALTIC DAY
 pigments are made from the highest quality ingredients: special effect pigments composed of Mica nanoparticles, coated with various organic and inorganic colors: Titanium Dioxide/Iron Oxide. This creates pearlescent and iridescent effects in your epoxy resin pours or thin coatings. BALTIC DAY products can basically be used in all epoxy products. 
How to Produce Translucent Color Effect?
If you want to achieve translucent color to an epoxy resin pour, always use a high quality mica powder. Mica for epoxy resin has a multiple thinly layered powder and it is the best way for adding translucence to your resin pours.
What doesn't Work to Color Epoxy Resin?
Acrylic Paint – this color agent is usually mixed from water, coloring pigments and various binding agents. The water and additives in these acrylic paints can lead to unpredictable results when combined with epoxy resin. When using acrylic paint, the casting surface is often streaked and matt.
Watercolors – these color agents are also not suitable for use in combination with resin. Colors are too weakly pigmented and therefore be too weakly to able to color apoxy resin. The amount to achieve desired coloring effect would be large. 
Oil Paint – Composition of Oily paints usually contains lipids, for this reason it is impossible to properly mix the paint with the resin. The project will lead to the formation of lumps and residues which cannot be mixed.
Nail Polish - It's not an effective way to color epoxy resin. Dripping iton wet resin can add color and make effects. Painting colored nail polish on cured resin is a good option for resin charms. Clear polish turns yellow quickly.
Latex Paint - I do not recommend latex as a resin dye. I have used it several times and results were messy.. Resin became stringy and not suitable.
These color additives are not suitable for epoxy resin.
Frequently asked questions
Can I color resin casting with painted lacquered color? 
Yes. We recommend to use a high quality two-component paint, as an example car paint. Tip: Results are better if the casting resin is already colored. Even river tables are often coated with a protective layer of lacquer.
What kind of dyes I can use for UV Resin?
There is no significant difference between epoxy resin or UV/Laminating resin. You should do not change the mixing ratio of the resin and hardener components too much by mixing dyed colors.    
How Can You Tint Clear Epoxy Resin to Produce Transparent Colors?
Epoxy resin remains a little bit transparent, if it's colored before casting. You can also use a small amount of appropriate color pastes, airbrush ink or printer inks to achieve transparent results. 
Is Colored Epoxy Resin Heat Resistant?
Epoxy resin temperature resistant up to 70 and 100 degrees celsius, but the exact value depends on the added additives and products used. Tip: cover tables with colored epoxy resin with a protective layer of transparent resin. Sometimes mixed dyes can have a negative effect on the heat resistance.
Can I Color Epoxy Resin Adhesive?
Yes but the processing time is longer than usually. It may take longer for the adhesive to dry and cury completely.
Can I color Epoxy Resin with Food Paint?
No, the composition of food colorants are not suitable for coloring epoxy resin.
Can I color Epoxy Resin with Printer Ink?
It's possible but this type of ink is usually not lightfast. 
Conclusion
We hope this article – how to color resin guide – has helped you to how easy the process of coloring epoxy resin can be. Follow these steps to achieve results that you want!
Which techniques from this post are you most excited to try?
Share your thoughts by leaving a quick comment.