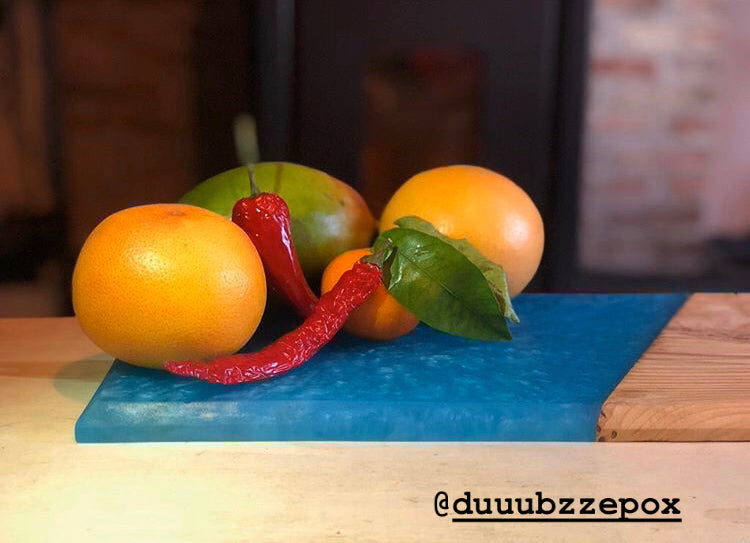 Is Epoxy Resin Food Safe?
Is Epoxy Food Safe? Is Epoxy Resin FDA approved? Can you eat of Epoxy Resin? These are most popular questions we are getting here at BALTIC DAY, Youtube channel, Facebook or Instagram. Epoxy has many uses in the kitchen such as tumblers, cutting boards, countertops, coasters or even knifes. Because it can be an effective adhesive and a coating material, so you may be considering using it to repair or create different type of items in the kitchen.
It can work equally with any type of wood, fiberglass, plastics or metal, you can use Epoxy Resin to repair anything. With it's popularity in the kitchen or home, you may wonder how safe it is to use epoxy on surfaces that will come into contact with food. Once Epoxies are cured it becomes an inert plastics. It work really well and it looks great but there is one question: Is Epoxy Food Safe and Non-Toxic?
Is Epoxy Resin FDA approved?
First of all, understand that not all epoxy resin are safe for use. Most of the artists uses epoxies in places such as adhesives in cars or airplanes, decoupage, a clear coat over an oil painting, pictures or a waterproof layer on a wooden boats, or DIY ART. These type of epoxies will never touch food, that's why there are different type of Epoxy Resin.
There are other type of epoxies – FDA approved food grade ( not Food Safe ). They are different compounds ( epoxy and hardener ) that artists mix together to create the finished product. It is up to the end user to mix, pour and cure the epoxy, each application must be assessed individually to ensure, it's properly cured . The FDA is not going to certify an epoxy as food-safe, because it all depends on user. In order to say that it is food grade epoxies and be safe, you must cure epoxy correctly.
Exposure to epoxy's ingredients and compounds, Bisphenol F (BPF) and Bisphenol A (BPA) which may be able to leech into our food and cause health effects. Low levels of BPA are considered safe for intake.
Exposure to epoxy's key compounds, Bisphenol A (BPA) and Bisphenol F (BPF) are being studied for their long term health effects and volatile organic compounds ( VOCs) is also a confidential matter on epoxy resin food safety as harmful, whic may also cause health problems. Food-grade epoxies have lower amount of VOCs and BPA than other type of epoxies.
Keep in mind, your hardener should not contain any amines as these ingredients will make food fatal to consume if they contaminate your food.
There are a huge variety of different hardener options, however, if you are using the hardener you need to ensure that no carcinogenic form or mutagenic compounds are included. These type of hardeners are banned which leave you with the one option - the food-safe epoxy.
The Food and Drug Administration ( FDA ) has clarified that very low levels of BPA can be used. A lot of studies and researches currently being done to look into effect of exposure to BPA ( Bisphenol A ).
Is Food Safe Epoxy Still Beautiful?
Food grade epoxies is equally as clear as any other type of epoxy. Being Food safe or not should not affect the quality of the epoxy. Many sellers trying to highlight the fact that their epoxy resin is more resistant to yellowing. This epoxy will leave any medium it covers with true to color protection, high-gloss shine layer to keep the surface protected for a long time.
How to cure Epoxies to make them food safe?
Even the best quality and food grade epoxies are not food safe if they are not cured correctly. Epoxy will contain: one bottle of resin and on bottle of hardener. It's should be mixed and applied in your epoxies in a warm space ( room temperature ). It will be different to mix epoxy when it's colder than about 70-75 degrees. It's recommended to apply epoxy in two coats, a thin seal coat to prevent air bubbles from rising later, and a thicker coat ( poured on once the seal coat is dry ). Users will also need a clean container/cup for mixing, and 100% accuracte measuring tools. Most epoxy paint products will need a 1:1 mixing ratio of resin and hardener, which means, if you want to make your epoxy food-safe, you will need to use exactly same amount of resin and hardener. The food-safe resin is heat resistant, has zero VOC, UV protected, doesn't yellowing and dries crystal clear. The food-safe resin has zero VOC, heat resistant, UV protected and dries crystal clear. If you will pour different amount than recommended, the epoxy will not cure completely.
Mixing both components – Resin and Hardener may take a while. You should mix slowly ( 5-7 minutes ) and carefully or you will introduce air bubbles into the mixture. You will find out that mixing is complete, when the mixture turns from cloudy and opaque to clear. Mix Epoxy very well because if any unmixed resin or hardener remains on the sides of the cup, it will create uncured wet spots. When you will pour the mixture out, do not scrape the sides of the cups to get all of the epoxy out ( there will still be a small bits of unmixed epoxy ). Be sure that the surface you are applying the mixture to is clean, dust free and sanded. It is recommended to wear Nitrile gloves, goggles, respirator when working with epoxy. Epoxy resin mixture is a very sticky and it will be very difficult to remove it if it gets on your skin.
Best Food Safe Epoxy Resin
Baltic Day has developed a new food-safe, uv-resistant resin which is suitable for most of the projects. It is very high quality coating resin, no Voc's, yellowing filter included.
Heat resistant, scratch resistant, water resistant, maximum UV resistant epoxy resin compatible with resin color pigments, alcohol inks, silicone oils, acrylics, metallic dyes.
Best Resin Colors for Coloring Food-Safe Epoxy Resin
Baltic Day resin pigment powders are specially formulated for resin art. It is Non-Toxic, 100% natural and eco friendly. Highest quality resin powders can be mixed into any clear medium and applied to any surface such as charcuterie boards, trays, coasters and other kitchen accessories. You can work with confidence as our resin dye will not tarnish, leave lumps or residues, fade or change in color over time.
All in all, as long as you buy epoxies that are safe for use with food, cure it properly, it will be safe to use on surfaces. However, there is still a danger of harm if directions and recommendations are not followed carefully. Every Epoxies brand is different and uses different ingredients and ratio in their products. Always CAREFULLY FOLLOW INSTRUCTIONS during your projects!