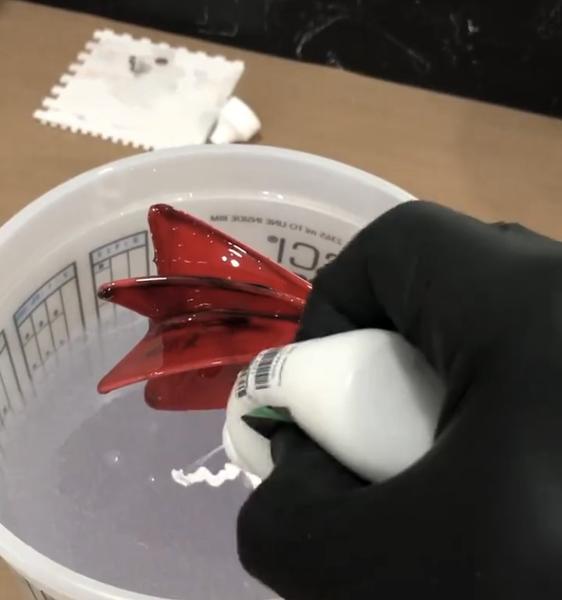 Best Tips for Tinting Epoxy Resin
Epoxy resin looks amazing when it's tinted. There are few ways to achieve the beautiful color you desire for your resin works. Homemade colorants, professional dyes, resin color pigments, liquid resin tints, there are so many color options to choose! Baltic Day clear resin can be tinted with our epoxy pigments, as well as other tinting products.
Important to not exceed more than 6% of the total volume of mixed resin and hardener. Otherwise, a chemical reaction will occur and resin will not cure properly.
Homemade or Professional Epoxy Resin Dyes?
Homemade resin colorants can be found around your kitchen and work ideal for your artworks. It's very easy to make this type of dyes, use inks, acrylics, chalks, watercolor paints, cosmetics such as nail polish, eye shadows or makeup powders. Artists using those regular colors to tint epoxy for a variety of uses including painting, paint making, art projects or even repair purposes. The most interesting thing is that you can even use food colorants such as spices or herbs into uncured resin to create vibrant pigment powders. Oil paint gets stringy and weird on your epoxy resin. You don't want to use this colorant. Crafters began to experiment with food coloring: powdered or oil-based dyes and achieved beautiful results.
Resin tint is when transparent dye is added to the epoxy resin, to affect the hue of the mixture.There are hundreds of different epoxy colorants available these days! You can order almost any resin tint on the online shops today. Epoxy pigments pastes, liquid resin tints and dyes are commonly used from construction, repairing, boatbuilding, wood working to resin castings, coatings and paint making prior to the setting process to add pigmentation. Remember, a little goes a long way! Take a look at these coloring options to tint your epoxy resin.
Mica Powder Pigment
Mica powder for epoxy has a sparkle and shine. If you are looking for an epoxy colorant with a shimmery and shiny that's more subtle and alluring – mica powder is the best choice! When you see the shimmering resin paintings, swirling river tables or shinning effects – "Mica powder tint is a must!"
Naturally grounded mica powder can be found in a variety of paints, soap, candles or cosmetics and art applications – like resin craft & art. Resin mica powder is non-toxic and completely safe!
Above: Epoxy resin tinted with Baltic Day mica powder for the river inlays on a table tops, by our client @refinednaturesantafe
Pigment Powder
Pigment powder has a similar texture as chalk with a matte finish. Chalk can be a great substance and filler but need to be pulverized into powder. Powdered pigments can be made from organic, inorganic or synthetic materials such as oxides, dioxides, silico oxides and other chemicals. You don't need a lot of powder to achieve beautiful results.
Above: Epoxy resin tinted with Baltic Day pigment powder for the metallic efect on counter top, by our client @sassy.resin
Liquid Resin Dye & Alcohol Based Inks
High concentration liquid resin dye mixes very easily with epoxy resin, just a few drops will be enough for the strong dyeing effect. Too much dye will cause a reverse action so do not exceed 6% of the total volume of mixed resin and hardener. These UV resin tints are widely used on resin jewelry making and DIY craft decorations.
Liquid resin dyes and alcohol Inks are very pigmented concentrate. You can add a few drops of alcohol inks into your resin for transparent color. The light fastness of alcohol-based inks is less good, making them unsuitable for outdoor use. Epoxy dyes are specially designed for resin and have a thicker viscosity than alcohol inks.
Acrylic Paint
Acrylic paint can also be used to tint epoxy resin. A high quality acrylic paint will produce better results. Some acrylic can change color in the epoxy resin drastically, some paints are less light stable than others and can fade over time.
There are a lot of different choices for changing resin tint, including metallic effect, neon, glow in the dark, glitters, shimmery and shiny finishes. However, acrylic paints are a great way to add color into resin artworks through 3D resin painting.
Resin Tinting Products
Hobbyists, artisans and crafters use interesting colorants to add color to projects. Powdered cosmetic pigments, liquid makeups, chalk dust, food coloring, wood shavings, epoxy pastes and various paints. Almost any colorant can be added into resin and be used for art creations. Professional quality rein tints will help you achieve better results.
Baltic Day resin tints are specially designed for resin art projects. Highest quality Mica powder paints are ideal for tinting epoxy resin.
Which type of resin tints you will choose, depends on the project you're seeking. For small projects such as jewelry making, small paintings, using any colors will work fine. For artists creating bigger projects or participating in art event shows, we highly recommend to go with professional quality epoxy resin color powders, mica pigment powders, liquid dyes or epoxy pastes. You will achieve the best results with these colorants!
Baltic Day professional quality resin tints come in a rainbow of colors to suit a colorful palette. To apply mica powders, mix two parts epoxy and add some colors. Then pour or cast the colored mixture to your projects.
Lighter weight color additives such as powders will allow more light to pass through your artworks while thicker dyes – dark coloration. Make sure that the epoxy resin curing process relies upon correct ratio and proper mixing.
Tips – How to tint Epoxy Resin?
There are a few options when mixing colorants with epoxy resin. If you are experimenting with resin, you can mix both coloring dyes of your resin first and then add different home made colors to ensure a beautiful combination. Start to mix in about 2% colorant to resin ratio by weight. The maximum amount of tint should be around 5%.
If you are working with super fast curing resin, as an example urethane or UV resin, you should tint part A ( epoxy ) before mixing in the part B ( hardener ). However, the final color shade may alter once it cures.
Shop Baltic Day resin tints here.
If you have any questions on how to color clear epoxy resin? Check out our article – How To Color Clear Epoxy Resin - Best Resin Colorants for Coloring