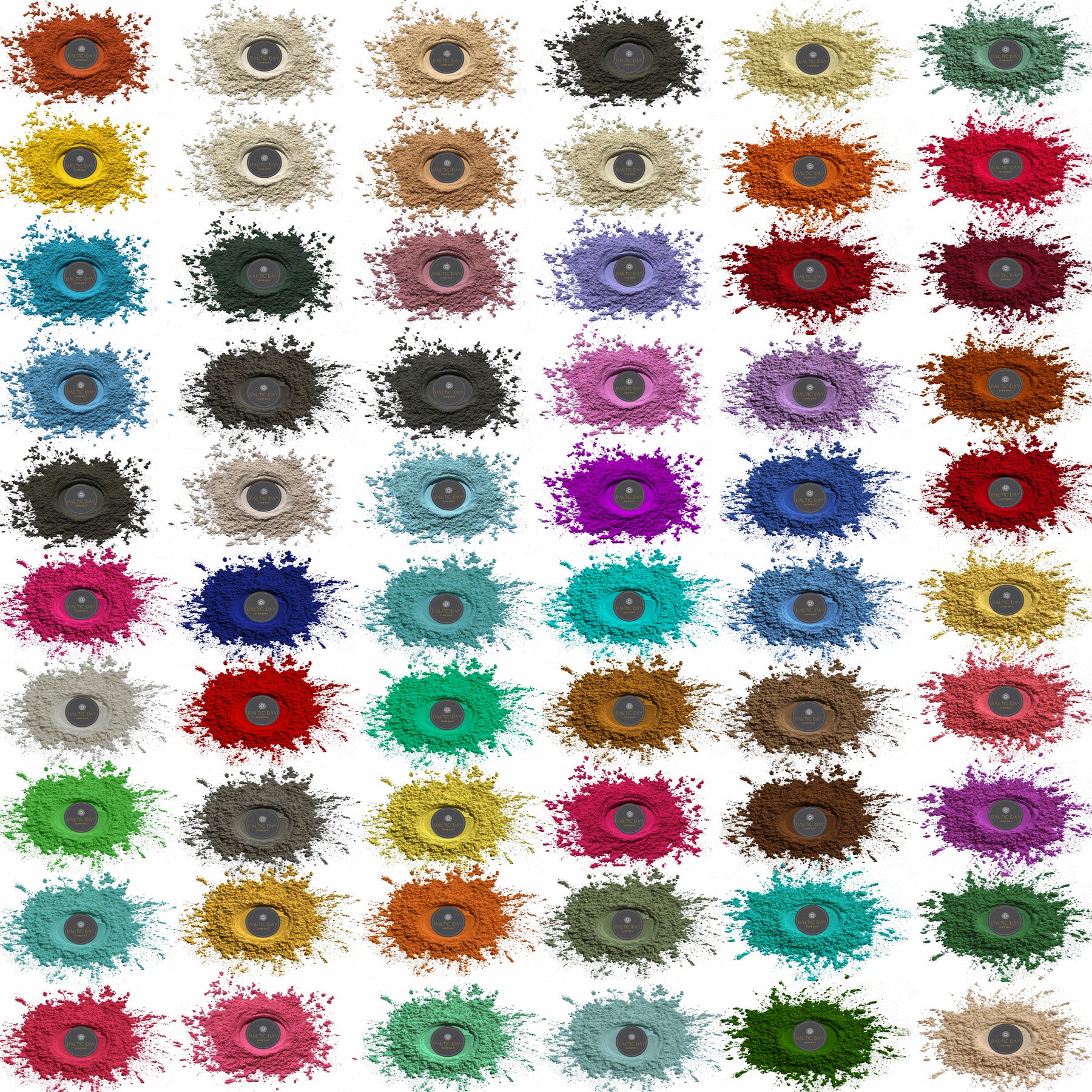 Mica Powder and Pigment Powder for Epoxy Resin Guide
Mica Powder Pigment is a non-toxic, mineral which can be organic or synthetic. Mica is sparkly, shimmery and metallic. Micha powder is used to add colour to resin, soap, bath bombs, candles, card making, wax melts, translucent polymer clay, slime, cosmetics, aroma beads, craft glue, inlay, molds, metal, pottery, rubber stamped crafts, scrapbook items, embossing paste, screen ink, automotive paint, alcohol ink, acrylic pour paint, watercolor and more.
Mica and Pigment Powder are both colorants but have a difference between. Pigment Powder are matte, giving a normal matte appearance. Micro Powders are shimmery and sparkly. Giving a glossy effect in artworks. Mica is an organic mineral found in stones which has a shiny flakes and gives a pearlescent effect. Mica Powdered Pigments are the most popular choice for artists and crafters who wants to make the finest art.
Mica Powder
Mica Pigment is a natural stone subsctance, mineral which has sparkling and shiny flakes. When mica grinded into a powder form it results in a Mica Powder which are a sparkly, and similar to a very fine glitter. Mica Pigment used to give a metallic, shimmery and pearl effect. Pure Mica Powder is a best choise to color something. They come in many colors from lightest – white, to darkest – black. Color Pigments are very effective in adding sparkle and shine in artworks but won't create a solid or bright/bold color.
Can you mix Mica Powders Together?
Produce a Metallic Iridescent Paint with Mica Powder. Mica can be applied to any transparent coatings for multilayered deep depth effects. To achieve a pearlescent and metallic coatings affects:
Mix 2-3 different color mica powders together.
Add dry pigment powder to mica and mixing them thoroughly.
Tinting a pearl mica powder with tints.
Adding an artist paint to colored mica.
Adding a pigment powder to interference mica.
Mixing Different Mica Colors
The best method of making unique and special color paint is mixing two or more coloring mica powders together. It's simple as mixing any other paint color together. As an example mixing BALTIC DAY Pearl and Green colors together, those mixed colors should give a pearly-green color effect, depending on the ratio and mixed color density.
Tinting a Mica Powder with Universal Tint
Mica powder pigments are available in hundreds of different colors. Universal tints are very concentrated color agents in a liquid form and can be added into any mediums. As an example, mica powder is dispersed in tint base, and a white tint is added to create a lighter color.
Mixing Pearlized White Mica with Dry Pigment Powder
Pearl mica powder are produced in various grades, from 10-60 particles to 100-300 particles. Micas in small particle sizes are very fine and iridescent, higher sizes – consist of large flakes and glitter. Adding a small amount of dry pigment powder to the pearly pigment will result in a dry colored mica which can be used for any painting medium.
Tip: to achieve the best results use translucent or transparent color pigments.
Adding Pigment powder to Interference Mica
Interference mica pigments are made by mica mineral coated with titanium dioxide or tin oxides. The powder appears more white than other type of pigment. The thickness of applied layer will determine which mcia color is produced. When viewed at an different angles, the pigment looks more iridescent. The changing colors appears due to the titanium dioxide coating.  It is best colorant for epoxy resin, these powders will create a brilliant shimmering hues to resin art.
Baltic Day Mica powder tinted epoxy resin and wood board, by @refinednaturesantafe
BALTIC DAY Mica Powder Pigments for Epoxy Resin
Baltic Day powdered pigments are made from the highest quality mica to achieve the intense pearlescent, metallic, glossy and shimmer of various shades unlike other poor quality pigments.
They does not fade or tarnish in color over time unlike other colorants. Colored Mica will not bleed or bloom unlike other inferior mica. No Residues or Lumps. BALTIC DAY pearlized pigments are specifically designed for Epoxy Resin Projects.
We have over 300 different mica powder colours and variety packs: Purple, Orange, Green, Dark and Light Blue, Pink, Grey, Silver, White, Violet, Lavender, Aqua, Golden, Turquoise, Yellow, Black, Rose, Brown, Copper, Blue, Red, Gold, Orange,  Purple, Bronze, Pearly color pigments sets.
Mesmerizing swirly purple Baltic Day mica powder and epoxy resin table, by @refinednaturesantafe
Mica Powder for Art
Mica Powder Colorants features ultra-fine (10-60 microns ) particles that can be mixed with clear, translucent or opaque medium. These pigments sparkle and shine, especially in watercolors, acrylics and oil paints. Since the particles are very small, colors can be mixed to create uniform colour, lightly to ensure subtle metallic effects.
Mica Powders are very pigmented and can be mixed with transparent topcoats, clear epoxies, wax, gelcoats or any brand epoxy resin. Mica dye looks amazing when used with epoxy resin on floors, table tops, tumblers, kitchen accessories, coasters, wall paintings, river tables, charcuterie/cutting boards, phone cases and countertops. Resin Powdered Pigments are perfect colorant as Resin tint and tinting dye. It is easy to use and safe!
Pigment Powder
Pigment Powders are powdered colored chalk, as it ground-up color in a powder form. Powdered pigments are individual colors in an assortment of various shades. They are not sparkly but are excellent for coloring things. Pure color pigments are very expensive, so be careful when ordering from sellers online. Usually mix powders with fillers such as chalks that increases the weight of packaged powders.
How to mix Pigment Powder and Mica Powder with Epoxy Resin?
Make sure your mica powder pigments are completely dry. When powdered pigments has moisture, resin will not cure completely. It will stop the resin from hardening. Resin and Hardener must be mixed thoroughly for at least 5-7 minutes.
Read our blog - Measuring and Mixing Epoxy Resin – Top Tips on How to Mix Epoxy ( GUIDE )
Coloring Resin with Mica Powder
There are so many possibilities to create with Mica Powder and Epoxy Resin: a glow in the dark coatings, waterfall resin river effects, iridescent and metal type castings, tumbler cups, jewelry and much more from colored epoxies.
Start with mixing BALTIC DAY artist's resin. It is a best choice for all resin projects. Crystal clear, UV resistant will create a glass-like finish and protect your projects. Simply mix both parts A – Resin, and B – Hardener equaly and mix thoroughly for atleast 3-5 minutes. Divide the mixed resin into small mixing cups  and add a few grams of BALTIC DAY Mica Powder Pigments.
The mixing ratio depends on the intensity of the color that you want to produce. The concentration of powder determined by the thickness of your coating or casting. 
Start with a small portion of pure metallic powder dye first to mix with the resin. If you want more opaque effect, add a few more. You cannot add to much mica color dust, or else, the resin will not cure. 
To achieve a similar level of coloration, thinner coatings will need a higher percentage of pigment than thicker castings. 
You have to experiment with the ratio and by your own tests and evaluations, determine suitability of such products for their specific use. 
We recommend 1g of pigment per 1-5oz of epoxies. 25-50g of pigment per gallon of peelable paint.
Mica Powder Sprinkle Method
Add a little amount of pigment powder at a time and sprinkle little by little on your mixed bucket of resin. Stir the resin sufficiently using resin mixer or other utensil and check for any lumps or residues that won't dissolve. Sprinkling options is very suitable when using powders which are grounded well enough as this consistency do not accumulate together in lumps.
Wax Paper Surface Option
Glow in the dark powders are very heavy and do not dissolve very well. This type of the mixture results in a resin mix that does not look very irregular. We recommend to pour some quantity of resin onto this surface and the add more powder. Mix the resin thoroughly to ensure all lumps are gone. This consistent resin mixture will become your stock solution.
Ways to use Mica Powder
Polymer Clay – Apply mica powder to raw clay. Brush them onto your polymer clay to give it a shinny and metallic look. Add pigment powder to liquid clay or varnish to turn cured, faux clay into a unique and beautiful glazed and galaxy effect artwork.
Rubber Stamps – the powder add a special effect to rubber stamp proejcts. Push the choosen rubber stamp into in pad, stamp the paper and sprinkle the powder over the surface. The powder will add a shinny and pearly details to your homemade cards. Change the look of embossing by adding mica colours to your clear embossing powder to get unique shade effects.
Shimmery Spray – fill your spray bottle with water and add a small amount of metallic paint in your choosen colour. Shake the bottle thoroughly and mix 2-5 grams of pigment powder with some glue. Shake the bottle very well again. Now you can add an extra layer of shine to your paper, fabric, flower or metal projects.
Painting – mix a small wet paint bursh into a little mica powder placed on a dish, mediums, oil or acrylic paints. Keep mixing until it becomes a thin paste, dip the brush into the mixture and start painting your work. Pigment powder also can be mixed into oil and acrylic paints.
Decoupage – mix mica powder into liquid adhesive product which is used for decoupage and begin by pouring glue into a bowl. Slowly and thoroughly mix a powder into your adhesive. Pigment powder also can be added to the clear gaze as a seal.
Slime making – Slowly strecth the slim and fold in the mica powder Use around ¾ teaspoon of the powder to achieve great results!
Soap – Works best with transparent melts. For transparent melt: use ½ teaspoon per pound of melt.
Bath Bombs – Use polysorbate 80 in Bath bombs to reduce powder residue in the bath tubs.
Epoxy Resin – add 1g pigment at the rate 1-5oz of epoxy depending on how saturated color you want to get.
Buy BALTIC DAY pigments kit HERE.
Looking for more tutorials, Tips and Techniques?